Frequently Asked Questions
Question: How do I add Mighty Hoop sizes to my Barudan Machine?
Answer: Go to this link for information

Instructions for adding Mighty Hoop Sizes to Barudan machines
Question: How do I add Mighty Hoop sizes to my Amaya Machine?
Answer: Go to this link for information

Instructions for adding Mighty Hoop Sizes to Amaya machines
Question: How do I know what sewing field size my machine is?
Answer: Go to this link to see where to measure your hoops to find your sewing field size.


Question: How should I store my hoops between hooping and when I am done for the day:
Answer: When you remove the hoop from an item, take the bottom ring and place it upside down on top of the top hoop at a slight angle. If done correctly, you should see the white side of both the top and bottom ring. See picture below. This will keep the hoops as a set, but they will not slam together which can pinch your fingers and can damage the hoop. The hoops will now easily pull apart to use for the next hooping. If you have multiple hoops, they can still be stacked like this.



The video at this link also shows this. Separating the hoops
Question: Why are Mighty Hoops different colors and does it affect the strength?:
Answer: The color of the Mighty Hoop does not indicate the magnetic strength of the hoop. It has to do with an internal manufacturing process. The white hoops are machined out of a solid piece of plastic. This plastic is only available in white. When we sell large quantities of a certain size hoop, we invest in expensive injection molds. This allows us to make the hoops more quickly and to change the color of the plastic. The blue hoops are simply the most popular hoops we sell. They have the same number of magnets and the same strength, the only difference is the color and how we produce them.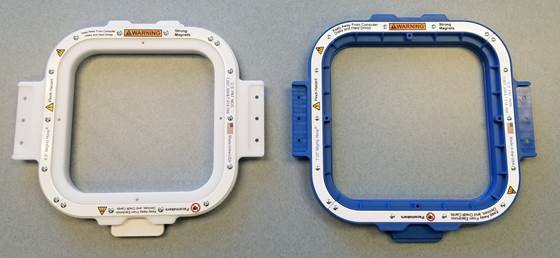 Question: Will my Old HoopMaster main Station work for the new Mighty Hoop Fixtures?
Answer: Most of the fixtures will work on old HoopMaster Stations. The 13x16" hoop fixture will only work on stations that were manufactured after about November of 2010, otherwise you just need our drilling jig to add more holes. The 11x13" fixture needs holes that we started to put in Stations back in 2006. Click on the following link to see a picture of the holes needed for this fixture. If you do not have these holes, you just need to order the drilling jig with your fixture so that you can add them..
Pictures of holes needed and instructions
Question: Will the magnets damage my embroidery machine?
Answer: We have thoroughly tested the Mighty Hoops and have found no adverse effects on the embroidery machine as long as they are properly used. You can visit the first link for general warnings for the Mighty Hoops or the second link has more detailed information.
Magnet warnings or Detailed Magnet Information
Question: Will the Mighty Hoops affect my pacemaker or other medical device?
Answer: If you have any type of medical device that can be affected by magnets, you should consult your doctor before purchasing or using Mighty Hoops. The Mighty Hoops produce about 4000 Gauss of magnetic force right on the attraction surface of the hoop. Provide the following two documents to your Dr. to help determine if it is safe for you or other employees to use the Mighty Hoops. Detailed Magnet Information or Magnet warnings
Question: What types of garments can I hoop with the Mighty Hoops?
Answer: We originally designed the Mighty Hoops for hard to hoop items like Carhartt jackets and leather, but they work great on almost any item you need to hoop. Our general rule is, if you can hoop it with a normal hoop, even if you have to force the normal hoop on the item, it will generally be easy to hoop the item with the Mighty Hoop. Customers that purchase the Mighty Hoops for their difficult items normally find that they use them for almost all of their hooping after they find out how much easier they are to use.
Question: Should I use the Mighty Hoops on normal shirts, or delicate fabrics?
Answer: Yes, The Mighty Hoops are great for normal shirt hooping and even delicate fabrics. One of the advantages of the Mighty Hoops is the reduced hoop burn you will generally see on material. We don't say that they will completely eliminate hoop burn, but they greatly reduce it. The way the hoops hold the fabric is completely different than traditional hooping.
Question: Should I use Mighty Hoops if I only hoop normal items like shirts?
Answer: Yes, they are great for standard left and right chest hooping. The normal full strength hoops are stronger than they need to be, but still damage garments less than normal hoops. The advantage to having the full strength hoop is that you never know when you will find a more difficult item to hoop. We do offer what we call a weaker bottom ring that you can order that makes the hoop a little less over powered on thin items. It is still strong enough for most shirts and even a thick sweatshirt, but will not hold leather or thick workwear. We have these for the 4.25", 5.5", and 7.25" sizes at this time.
Question: What brands of machines do you make the Mighty Hoops for?
Answer: We currently make the Mighty Hoops for almost all commercial embroidery machines including, Tajima, Barudan, , Brother, Brother PR 6, 10 and 1 needle, Baby Lock 6, 10, and 1 needle, Melco, Toyota, Happy, ZSK, Ricoma, Meistergram, Redline, Feiya, Highland, other Chinese machine, Janome, Avance, Aemco, SWF, and Inbro. If you do not see your machine, please ask as we can probably make the Mighty Hoops work for your brand also. Call or email us with your sewing field size and brand of machine and we can tell you if we have the Mighty hoops for your machine.
Question: Do you make the Mighty hoops for any single needle home embroidery machines?
Answer: Only if it is a Brother Persona or Baby Lock Alliance. We don't make the Mighty Hoops for other single needle machines at this time.
Question: Are the Mighty Hoops the same thing as Magna-hoops?
Answer: No, The Mighty Hoops are much different in the way they are made and used. Watch the demo video to see how they work.
Question: Do I need to own a HoopMaster to use the Mighty Hoops?
Answer: You should have a HoopMaster to use the Mighty Hoops. If you do not have a HoopMaster kit, look at the last few items on the pricing-order page for details. You just need a Station and FreeStyle base to use the Mighty Hoop and Fixture.
Question: What if I have more than one brand of embroidery machine, will the Mighty Hoops fit both machines?
Answer: Yes, The Mighty Hoops come with brackets for one brand of machine, if you would like to use them on other machines, simply order another set of brackets for the hoops. Click here for brackets.
Question: What type of payment do you take?
Answer: We take MasterCard, Visa, American Express, Pay Pal.
Question: Do you take international orders?
Answer: Yes, but you would have to email us the items that you would like. Our website cannot take international orders because it cannot properly calculate shipping cost.
Question: How long will it take to receive my order?
Answer: It depends on the brand of machine you order the Mighty Hoop for and how far from Wisconsin you are. The Mighty Hoop has been very popular so we have had a hard time keeping up with demand during certain times of the year. Most orders can be shipped within a few days, but it is best to email info@hoopmaster.com and ask if you are in a rush. If you just want to place your order, once we receive your order we will contact you with an estimated shipping date. If what you are ordering is in stock, it will ship right away. Shipping will take 1 to 5 days once it leaves our facility. We ship from WI, you can go to this link to estimate how long it will take to arrive. UPS
Question: How much will shipping cost?
Answer: Add the item you are interested in to your cart and it will show you the shipping cost.
Question: What is your return policy?
Answer: We are so sure you will like HoopMaster and Mighty Hoop products that we have a 30 day money back guarantee. If you return it for any reason, we will issue you a refund minus the shipping cost, as long as the item is not damaged.
Question: When ordering online, I am taken to PayPal for Payment. Is this correct?
Answer: Yes, we currently use PayPal to process our online payments.
Question: Do I need to have a PayPal account to order from your website?
Answer: No, PayPal processes the payment, but you can use a normal credit card to make your payment, just be sure to look for the credit card payment link.
Question: What is the difference between the 12x15 and 13x16 Mighty Hoop and which one will fit my Tajima machine?
Answer: The 12x15 and 13x16 are almost identical. Click on this link for a better description.
Question: Why are there different types of adapter brackets for the Melco Amaya machine?
Answer: We have made different adapter brackets over the years to make the hoops fit better. Click Here for a PDF that explains the difference.
If you have any other questions, please give us a call or email us.
1-800-900-0741